If you are new to my newsletter, I would like to welcome you. If you are wondering why you are receiving this newsletter, you signed up for one of the bundles/giveaways or from my website.
I will try not to spam you, although, I will be sending you links to things that I think will help your business grow. I want to see you succeed. If you do not want to receive emails from me, I will be sad to see you go, but just unsubscribe here or the link at the bottom of this newsletter. You will always be welcome to come back if you decide you really want to hear from me.
If you missed any of my newsletters, you can find back issues on my website. It will have all the newsletters in publication order.
A LITTLE OF WHAT IS GOING ON IN MY BUSINESS AND LIFE:
What to write? That is the question. I have no idea what to write to you, %contact.first_name%, today. What would you like to hear about? I would love to hear from you. Please reply to this email to let me know. Are you into Printables or Digital Planners or both? Is there a specific subject you would like to hear about?
Hi, %contact.first_name%, I was talking to a friend of mine the other day and they told me I should start putting a notice in my newsletters when bundle signups were coming up. How would you like for me to do that?
Well, I found out what that swollen area at the base of my neck on my clavicle is. It is more arthritis. Wouldn't be so bad if it wasn't painful. The one one my neck goes all the way over to my right shoulder when it decides to hurt. It makes moving that arm painful. If it is anything like my left hip, there is nothing they can do about the pain since it is osteoarthritis. Oh, I have a matching bookshelf….my left hip and my right shoulder. LOL Hey, you either laugh about it or cry about it. I would much rather laugh.
I am so frustrated with the Microsoft Office software right now. Wish I could figure out how to get rid of the 2021 problem. I know what it is. Microsoft Office 2021 is registered with Microsoft. For some reason the registration for 2019 isn't there. Well, anyway, why am I frustrated you might ask? I was working on a project for an email list building event. I had worked on it for 2 hours. I went to save it and it told me that I did not have access to that file area. Then the program shut down on me. It did not do a recovery before it shut down either. So, I lost 2 hours of hard work. I can redo the work so it is not lost but it is so frustrating. I really need to buckle down and get the information off of Outlook so that I can reload 2021 and get the problem solved…hopefully.
I worked on aMember yesterday. I am learning some really cool stuff and improving my site right now. I can't wait to be done with it so that I can spend more time on product creation. I want to start working on another digital planner. I have so many ideas floating through my brain. LOL
OK, that is enough about me today. Hope ya'll are having a wonderful day out there.
REMINDER!!!!!
***You will have until March 31, 2022 to download all of your goodies for Affinity Lovers Collection 2022
ENDS TODAY
Carmen of Simply Couture Designs is launching her new Mental Health Journal PLR Templates. You will receive a collection of 25 unique Mental Health Journal printables embellished with floral designs to help your customers to learn more about your emotions, body, and thoughts. The Mental Health Journal is made to give hope and encouragement to those who are struggling. They are designed to calm you down, help you to focus, or just make your day better.
Mental Health Journal printable is an evergreen niche throughout the year. Now is the time to list mental health
journal printables in your Etsy or Shopify shop. This planner is editable in Powerpoint. You will receive both a printable and digital version of the planner.
Use coupon code MENTALHEAL10 to save through March 15.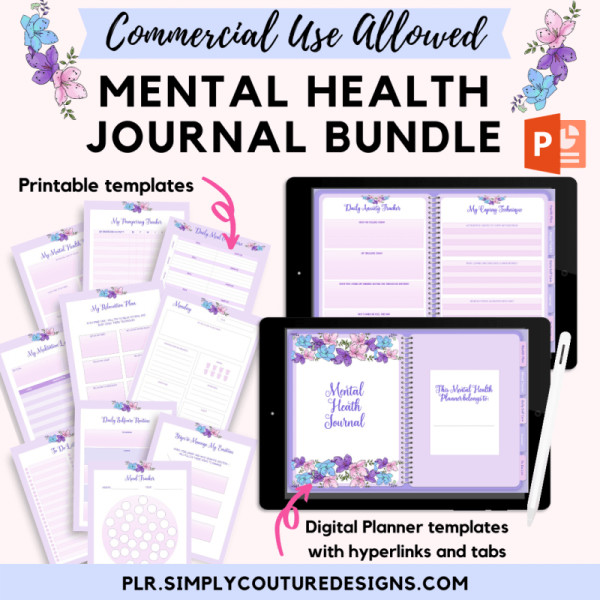 Mental Health Journal PLR Templates
NEW PRODUCT TODAY
If you are looking to start contributing to bundle, giveaways, and events look for the newly updated workshop taught by Christina of Beautiful Journals and Planners just released How to contribute contribute to bundles, giveaways, and events. You will receive a folder with the three‐day live workshop videos and a video walking them through Birdsend. Along with an updated ebook/workbook. Use coupon code rockstar10off to get this course at $37. The coupon code is good until March 20.
I took this course and learned a lot. I kept waiting for it to be given again to help others and it is finally here. If you missed it the first time, here is your chance to start building your email list and build your income. Also, if you were in the class with me, we are grandfathered into the new one.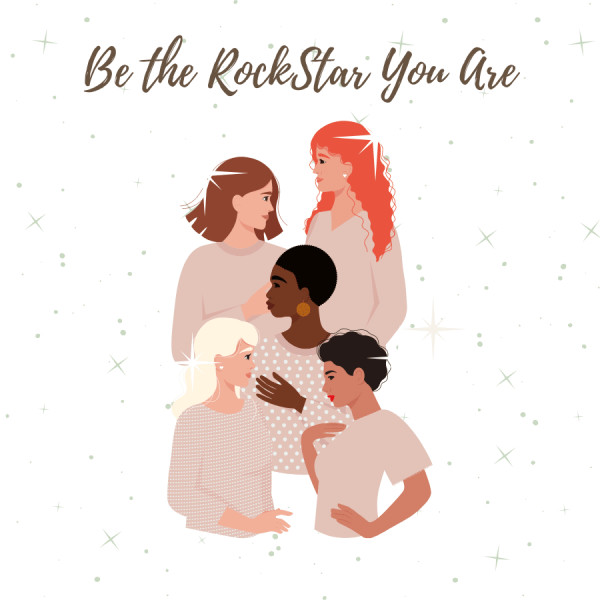 If you purchase through my link, I will be offering a bonus class on how to join a bundle using Birdsend and Payhip. But, beware. If you are doing a bundle with PLR, you need to keep it listed as you are not allowed to sell PLR on Payhip. There is always a chance that your account will be closed for selling PLR. I did it this way and was able to get through the bundle and the download period with no problems but only because I kept it unlisted. Only the people who had the link could get to the product. Not sure at this point if I will be selling the class later.
How to contribute contribute to bundles, giveaways, and events
Jan of Simple Happiness is releasing her Vintage Genealogy Tracker. The tracker has 40 unique pages for customers to record their family tree research, two covers, and four backgrounds. Genealogy is a super popular hobby and this type of product sells all year around. You will receive PowerPoint and Canva versions in both A4 and US Letter sizes. PLR Commercial Rights and plain templates for easy customization included.
Use coupon code FAMILYTREE to get this tracker for $19.95 (instead of the regular $37) during launch. Coupon will be good through March 22.
ONGOING SALES
Michelle of PLR Niche is having a Crafty March sale on all of her Craft Journals and Planners. Use coupon code GETCRAFTY to get the 50% discount on all 5 of her Craft Planners. The coupon code is good until March 31.
Handmade sellers event planner
Sewing project planner
Quilt planner
Crochet planner
Knitting Projects
Are you looking for a children's planner? Then you would be interested in Christina's of Beautiful Planners and Journal new planner, Lion Planner for Children. Children could use this planner to plan their activities, list and keep track of their chores, homework time, learn how to manage their time, and write their gratitude list. This planner is editable in Canva. Get this cute planner for just $17.
Bitty of Bitty Spires Life is having a promotion on her Club Pin Monthly Subscription. Is it on your To-Do list to get started with Pinterest? Or are you already active on Pinterest but don't know how to create the pins or really don't want to take the time? Join Bitty's Club Pin for $10 a month where you will get get 12 DFY pin templates delivered to your email and a 20-30 minute training session. Can't beat that. Oh yes you can! Club Pin Members will get 30 Free Bonus Product Mockups with sign up plus this month, they get an extra 12 Pins for a total of 24!!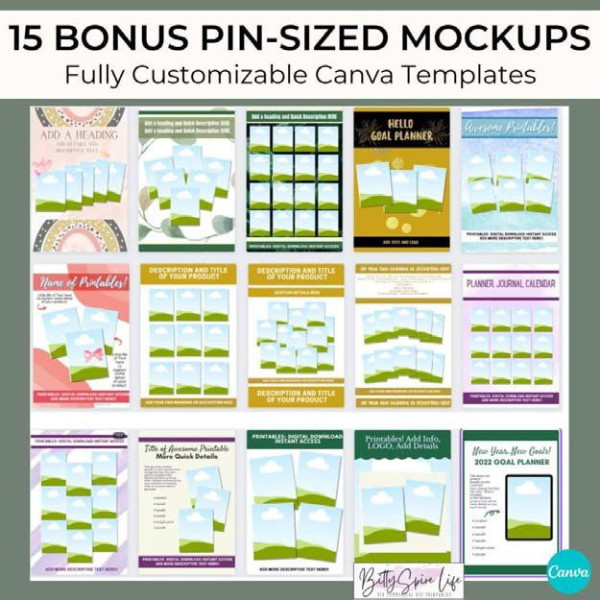 Turn this into This with this month's training

Get 2022 off to a great start with Digital Affiliate Promotions Planner & Tracker! Compatible with GoodNotes and other apps, you get FULL commercial rights! Use it yourself, give it away to build your list or sell it as your own product. Easy to edit and re-brand! It is a steal at $1.
Digital Affiliate Promotions Planner & Tracker
FREE TRAINING
Are you interested in learning Canva and need a little help? Check out How to use Canva for beginners: Canva Tutorial 2022. This is only one of the videos that Faith of Faith's Biz Academy has on her Youtube channel. She plans to add more videos every week to give you Canva Design tips, step-by-step tutorials on how to create printables to sell, online marketing tips to grow your business, and more! Check it out!!!!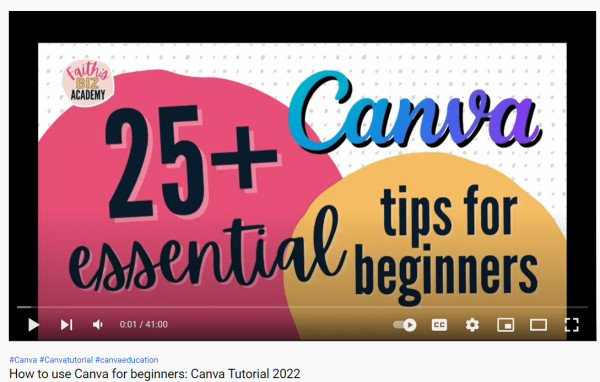 How to use Canva for beginners: Canva Tutorial 2022
HELP WITH AMEMBER
Creative Mama Designs has a page of free commercial use projects for you to repurpose for your store.

Sue of Createful Journals has a course called List Builders Action Plan. In this course is a wonderful section on aMember. It helped me so much. If you are joining bundles, she gives you some wonderful tips on this also. This is really worth the money.
Get this course by Ruthie and Melody to help you get aMember on your site. It will help you set up your products and your affiliate program. I have purchased this course and am in the process of setting up my website now.
If you would rather take the aMember course taught by Faith, I have taken this course also. It is very good. She will walk you through how to set up your site, manage your products, manage your affiliate program, and creating upsell/downsell offers. I really did love the last one as I would have never figured out how to do it.
FREE PRODUCTS – REPURPOSE & STOCK YOUR STORE!
Free DFY Printable Planner Template with Commercial Use rights. This is editable in Canva, Affinity Publisher or Adobe InDesign.

Get the Paris themed Family Is Love Management Planner from Niche PLR Starter Packs. It has 12 unique planner page designs and is a dated planner starting for April 2022. This planner is designed to help your audience to keep track of their family schedule for the year, month and day. You have PLR rights on this product. This is lettersize. The planner is editable in Powerpoint.
For a limited time only, Becky of PLR Beach is giving away her Safari Blooms Undated Monthly Planner. Included with the planner are:
15 page printable
PowerPoint template
8.5 x 11 size
12 month calendar
Journal page
Commercial use rights!
Safari Blooms Undated Monthly Planner

The Digital Divas are back. Check out this free 2022 Digital Affiliate Promotions Planner & Tracker brought to you by Melody of PLR Club of the Month. Compatible with GoodNotes and other apps. You get FULL commercial rights! Use it yourself, give it away to build your list or sell it as your own product. Easy to edit and re-brand! Once you grab your freebie, you'll see the latest offer from the Digital Divas (Ruthie, Mel, Stephanie Hansen, Jan Small, and Helen Ross). They've put together the 2022 Business Builder Bundle for you that includes another Digital Planner, a Printable Planner, Digital Papers and Stickers for only $29 (about what you'd pay for just the digital planner if you bought everything separately).
2022 Digital Affiliate Promotions Planner & Tracker

Check out the free PLR at this site. They will help you to get more products on your site. Don't pass up the opportunity to get these journals, planners, calendars and stickers.
Free Journal, Planner, & Calendar PLR
FREE GRAPHICS & SEAMLESS PATTERNS
Please know that some free offers are available for only a short duration. They may go away soon. Every care has been taken to check the links to offers. But if the offer expires or the vendor is no longer honoring the coupon, please contact the vendor directly.
28 DAYS OF LOVE
Beautiful Font Bundle (free through TONIGHT)
Watercolor Bundle (free through March 16)
Monogram Font Bundle (free through March 17)
Stunning Font Bundle (free through March 18)
Mega Popular Crafts Bundle (free through March 19)
Spring Graphics Bundle (free through March 20)
All The Fonts That You Need Bundle (free through March 21)
FONTS
22 Fonts Bundle (Must share to unlock)
Summer Break Script Font
SEAMLESS PAPERS
St Patrick's Day Fun Prints
Mermaid Glitter
Western Turquoise Easter
Easter Blessings Digital Paper Set
NEW Pastel Watercolor Glitter Background
GRAPHICS
Boho Collection
St Patrick's Day Dubbing Skeleton
St Patrick's Day Leopard Shamrock
St Patrick's Day Shamrock Heart
Happy St Patrick's Day
St Patrick's Day Lucky Lips
St Patrick's Day Nurse Love
St Patrick's Day Shark
St Patrick's Day Unicorn
St Patrick's Day Gnome
Colorful Stars Sparkle Glitter Wreath
Llovely Llamas
Little Garden Watercolor Collection
Gnome Saint Patrick's Day Watercolor Set (free through TONIGHT)
Cute Bee Gnome Watercolor Printable Sticker
NEW Vintage Celestial Junk Journal Kit
NEW Craft for Ukraine Bundle

MISCELLANEOUS
My First Easter
Easter Word Search
St Patrick's Day Picture Book Bingo
St Patrick's Day Mug Design
Mandalas
Gnome Mom Printable-Digital Stickers
NEW Instagram Business Templates
NEW Daily Planner Keywords
NEW Printable Cash Envelope
Check out the free gifts from Creative Fabrica every day. You might be surprised at what may pop up.
If you are into t-shirt designs, you will find quite a few of them in the free section of Creative Fabrica. Remember to change them so that yours will be different. You don't want yours looking like everyone else's design. You will also find craft patterns on there if that is your niche.
There are more seamless patterns and graphics available on Creative Fabrica for free. Just search for St Patrick Freebie, Easter Freebie, etc. and you will get all of them. If you want something else, just type in the search term with Freebie and you will see what is available for free without a subscription.
I have a subscription to Creative Fabrica and can download as many of the graphics on their site free. I get an idea, I run to Creative Fabrica to see if I can find graphics to make my new creations. It is so great. You might want to get a subscription if you need lots of graphics.
I WOULD LIKE TO KNOW
What are you working on? Above, you will find some freebies that you can use to create your products. There are seamless patterns for you to use as covers for your products. Remember, always modify the images so that they are different from what someone else might create with the same pattern. Make your cover stand out and let people know you are different.
Mix and match the coloring pages, color by number, dot to dot, and word search to create your own coloring book. Add something to them to make them your own so you won't be creating the same coloring book as everyone else.
Create a mug or greeting cards to put in your store. You might create these to give to special people in your life. See below in MISCELLANEOUS to find the links to the templates for you.
I want you to keep on working and growing your business. Let me know your accomplishments and what you are working on.
If you need to talk or get some help of some sort, I am here and will help you in any way that I can. If it is something I don't know yet, I will refer you to someone I know who does have that information. We are all here to help each other to achieve success.
Hope you are having a wonderful, productive day. Get lots of products created or training done.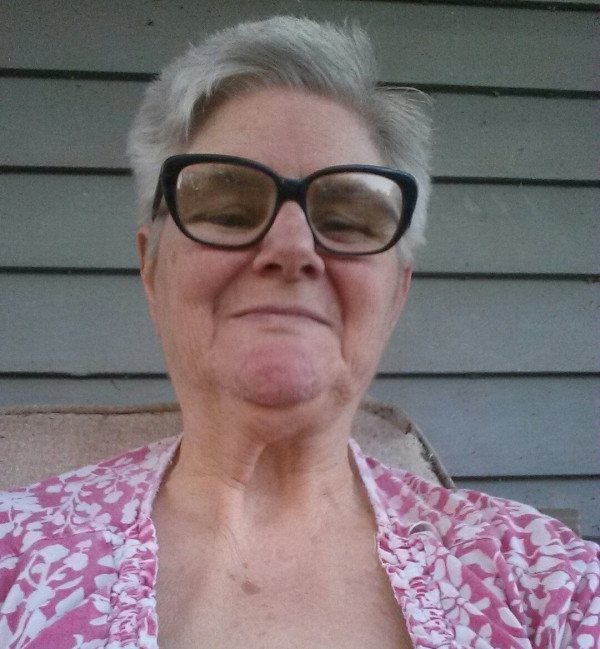 Gilded Penguin Creations
marilyn@gildedpenguincreations.com
PLEASE NOTE:
You are receiving this email because you requested to be on my list when you received a freebie from my website, a bundle or a giveaway or you purchased something on my website.
This is a commercial email. If you purchase a product through a link in this newsletter, we may be compensated for that purchase as an affiliate of the product. Then again, we also include lots of links to other websites and cool stuff for you, just because we want you to succeed in anything that you do.
If you would like to become an affiliate for my store, sign up here.