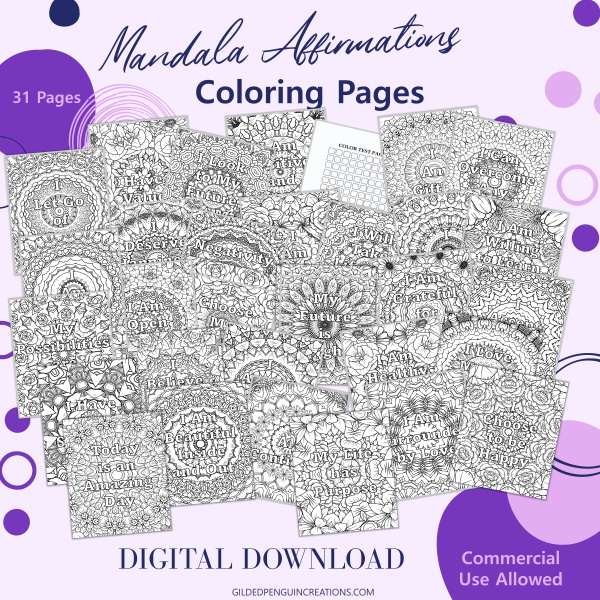 Coloring helps the colorist to relieve stress. This set of coloring pages goes a step further in that it has affirmation phrases to help the colorist feel better about themselves. These would make great dividers for a affirmation journal or planner.
This Mandala Affirmations Coloring Pages PLR Bundle contains 30 affirmation phrases on mandala backgrounds. In addition, you will find a color test page for your customer to use to check their medium to see which colors they want to use for their coloring page.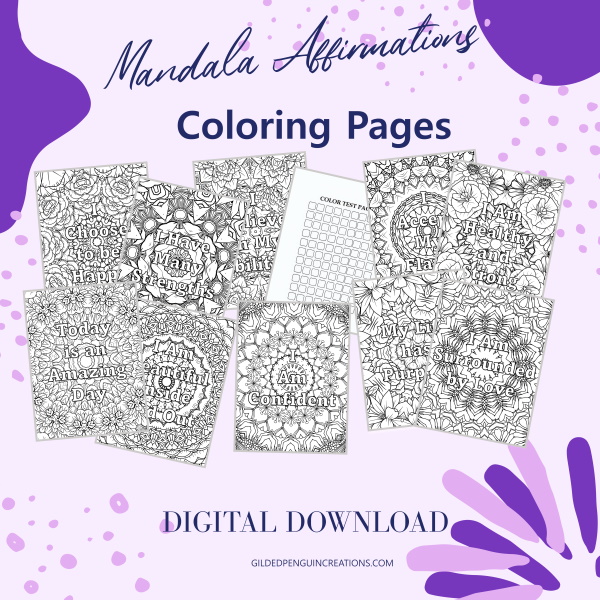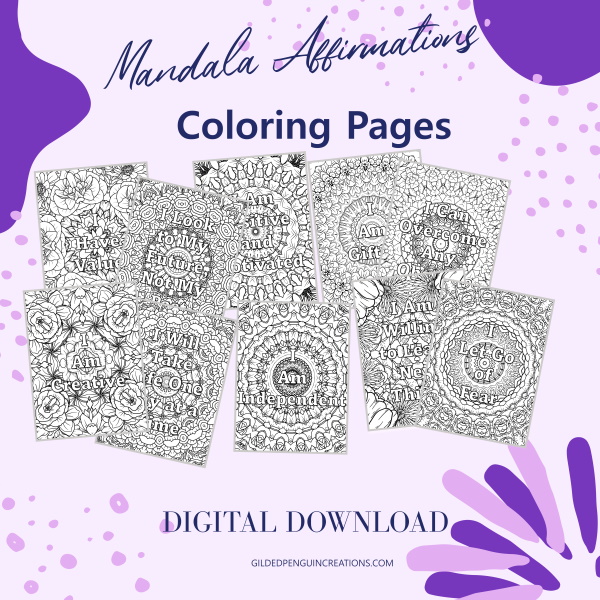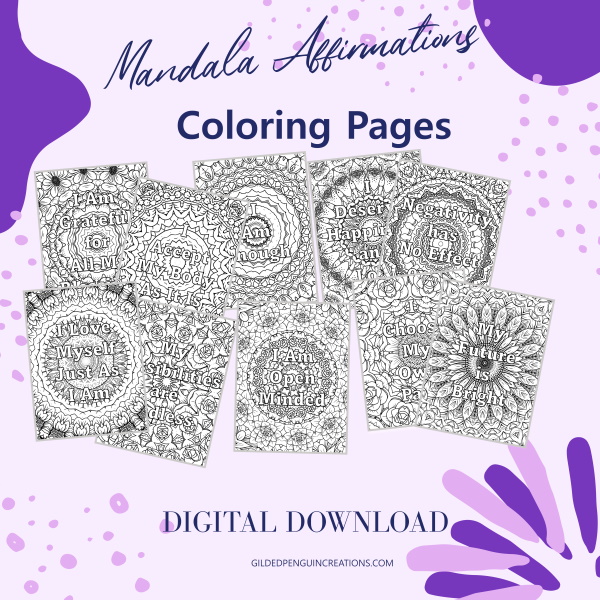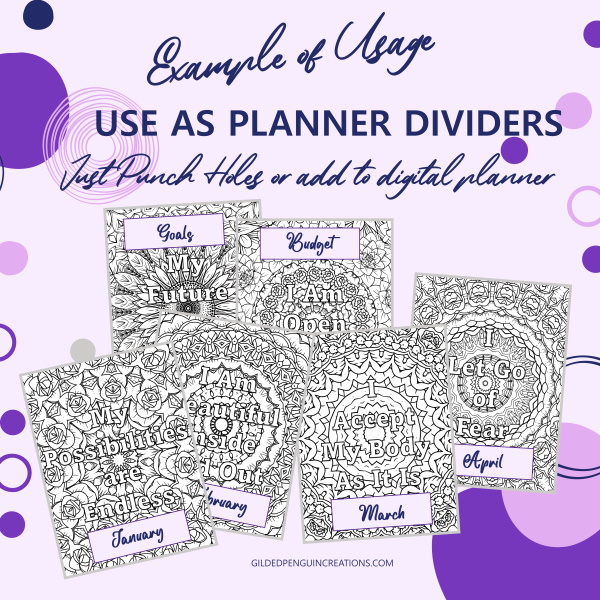 First off, let me tell you that you will be receiving a PDF, a PowerPoint, and the high quality (300dpi) JPGs of the 30 coloring pages.
How can these images be used?  The first thing you will want to do is change them so that your images won't look like everyone else's.  How can you do this?  Change the words in the PowerPoint file to different phrases or fonts. Change what language the phrases are in. Add images to the one that is already here like maybe add a dog or cat to the image.  Add a child or elf.  Make sure that the inside of the new image you are adding is filled with white so that the lines of the image below doesn't show.  Once you add your images, they will look completely different.
These modified images can be used to create a coloring book/bundle or coloring pages. Use them to add to journals or planners as dividers, page backgrounds, or even as part of your cover for these journals or planners. There are just enough coloring pages to create a divider for each month of the year. These coloring pages would be great inserts for a affirmations Journal or Planner.
The coloring pages in this coloring book were created for a variety of colorists be they men, women, children or seniors. They will help your stress level and help you create a sense of peace after a long hard day at work. Working on a project and have a block? Pull out your colored pencils and fill in a coloring page to help you get the clarity and focus you need to finish your project.
When you print out your coloring pages, only print on one side of the paper. This allows you to color all of the pages with your favorite medium (colored pencils, gel pens, markers, and/or crayons) without fear of destroying the image below. You can also frame the finished product if you so desire.
I would love to see the creations you created from this PLR. Just message me here with the link to your product. I would love to become an affiliate for the product to help you sell it.
Feel free to contact me with any questions or suggestions.
PLEASE READ:
This is a DIGITAL PRODUCT which means NO physical product will be shipped to you.
Due to the digital nature of this product, ALL SALES ARE FINAL. This means, requests for refunds or exchanges cannot be accepted so please consider the product carefully before placing an order. Please feel free to ask me ANY questions before you purchase.
TERMS OF USE: This product is sold with a Commercial License/Private Label Rights (PLR)
[YES] Can be edited and modified in any way. Please do not sell as is.
[YES] Can be branded & sold as a coloring book or coloring pages, personal use rights only (PDF) or (JPGs)
[YES] Can put your name as the author
[YES] Can be translated to other languages
[NO] Cannot claim sole copyright to the content since it is PLR
[NO] Cannot sell or giveaway private label rights (non-transferable PLR)
[NO] Cannot be added to membership sites with resell and master resell rights
[NO] Cannot use my name as author
[NO] Cannot sell or give away the source files of coloring pages.
This is an Instant Download. Your files will be available to download once payment is confirmed. It will also be available in your "My Account" Page for you to download at a future time if you so desire.